A Floral Crown, Charlotte Balbier Dress and a Nature Inspired Barn Wedding Yorkshire
06 March 2019
Straight off the blog written by Laura from Love My Dress is this stunning wedding we created flowers for.......
FLORAL + CHARMING
A Charlotte Balbier Dress + Flower Crown For a Nature Inspired Barn Wedding in Yorkshire
If you're in need of spectacular summer wedding inspiration, then stay right where you are and keep on reading for this delight of a Yorkshire barn wedding. It has it all, from wild and rustic styling inspired by the groom's career (more on this soon!) to the dreamiest wedding gown and beautiful and colourful blooms aplenty.
This is the celebration of Sara, an Engineer, and Jesse, an Arborist, who were married on the 16 June 2018. First there was a church ceremony at Aston All Saints Church, Sheffield, the place where Sara was christened and confirmed, and the service was followed by a reception at The Manorial Barn, Whiston, near Rotherham. The bridesmaids looked fantastic in pastel floral print maxi dresses from ASOS, with their own choice of footwear, as well as fresh flowers in their hair and a strawberry quartz necklace each, handmade by Sara.
Images by Stu Ganderton Photography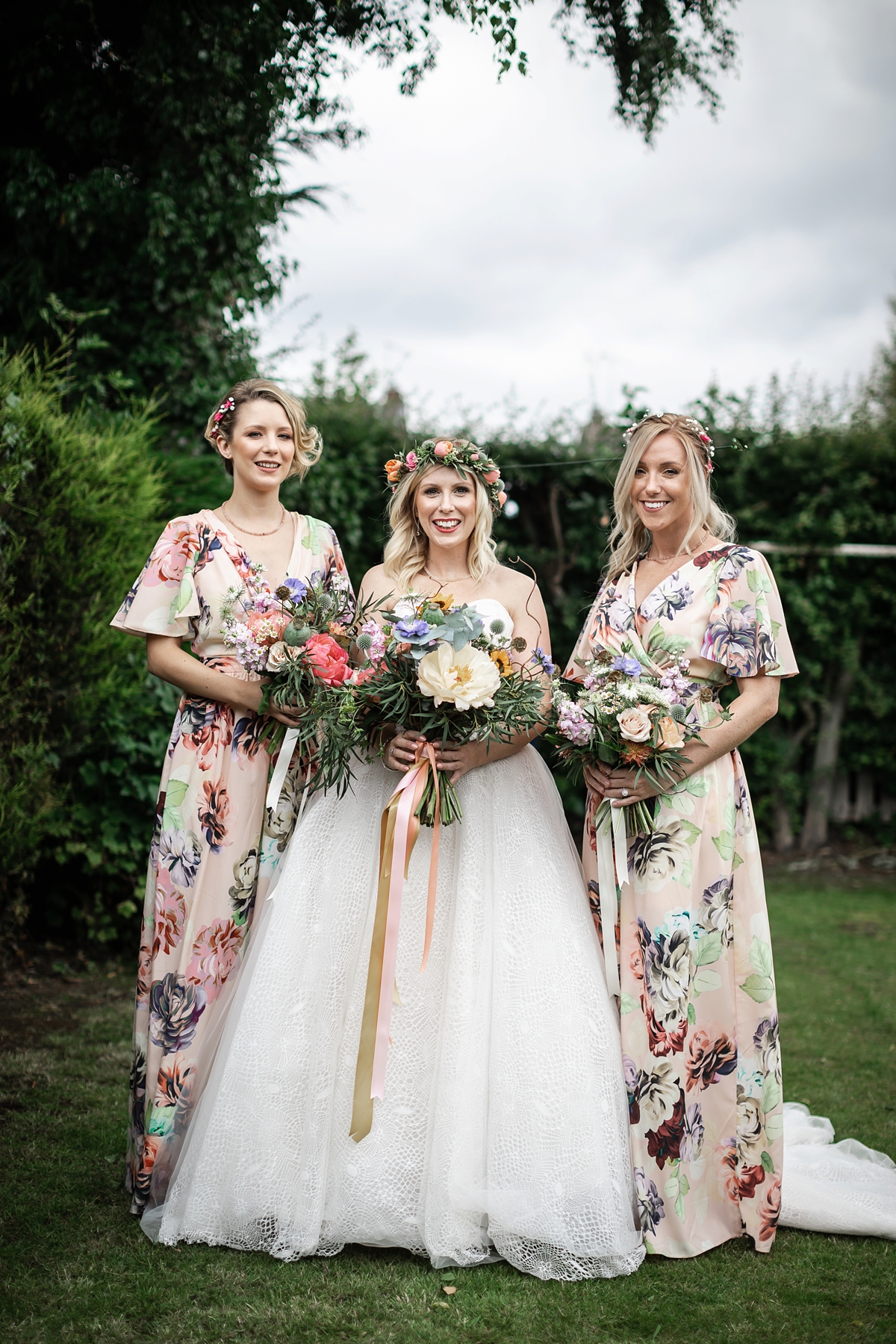 From fantastic Little Book member Lace & Co., Sara chose the romantic 'Tatiana' gown by Charlotte Balbier. The design of the lace together with the softest tulle combine to create a gossamer light spider-web effect, which looks so beautiful with the full skirt and sweetheart bodice.
"Initially I wanted a simple and relaxed bohemian style dress, however when I tried them on it did not feel as though I was wearing a wedding dress. My mum was desperate for me to try on a ball gown, so once I found one that had a bohemian flare, I caved and tried it on, however once it was on I didn't want to take it off.
"The lace is incredibly unique, and although it has the traditional shape of a wedding dress, I felt as though I was wearing something incredibly different, however still equally as special…The service was fantastic and I couldn't recommend Heidi and the team at Lace & Co. enough, they were wonderful."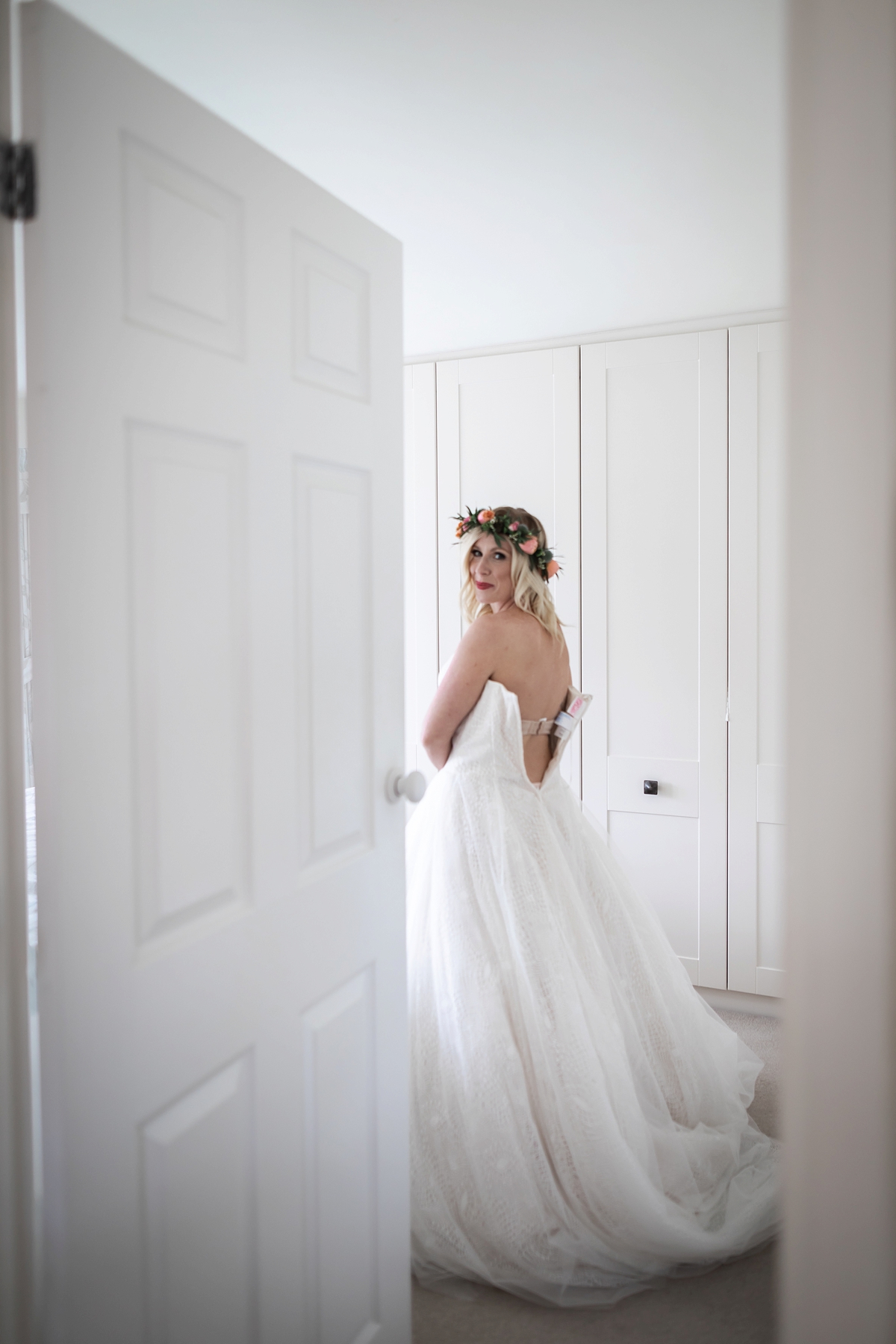 Fresh and dewy make-up with gorgeous bright lipstick came courtesy of Hannah Caval, and Sara's hair was styled in pretty boho waves by Carly Dodsworth (no details provided). Fantail Designer Florist made a beautiful floral crown of bright roses and chamomile daisies with fresh greenery, and Sara also added a long tulle veil chosen at Lace & Co. to go with her lovely and ethereal gown.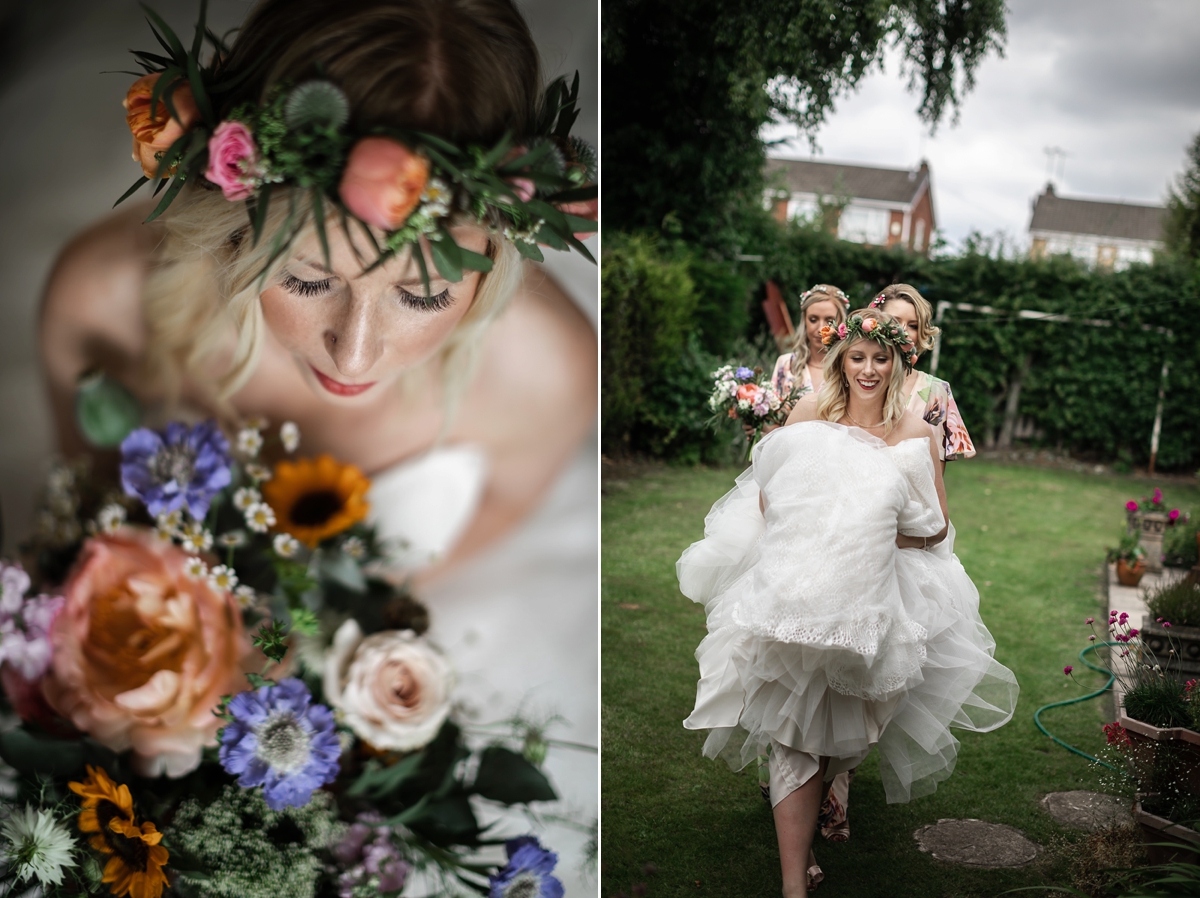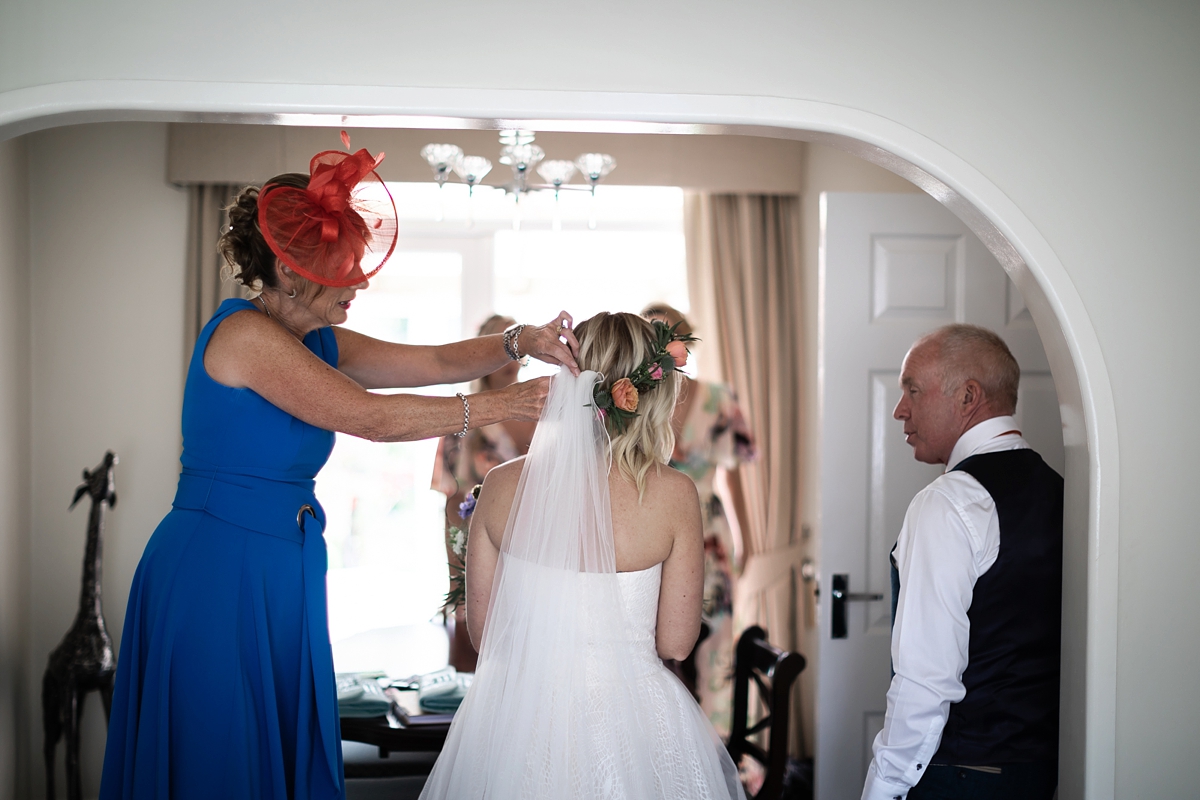 Sara wore blush pink peep-toe heels from Vivienne Westwood, and for jewellery, a striking citrine necklace, which she made herself.
"Citrine was my grandmother's favourite stone, therefore I wanted to wear it as a gentle suggestion to her. I also wore her engagement ring as my 'something old' and 'something borrowed'. Finally, I wore a silver oak twig bangle which was a birthday present from my now husband – he had it personally made as he is a tree surgeon."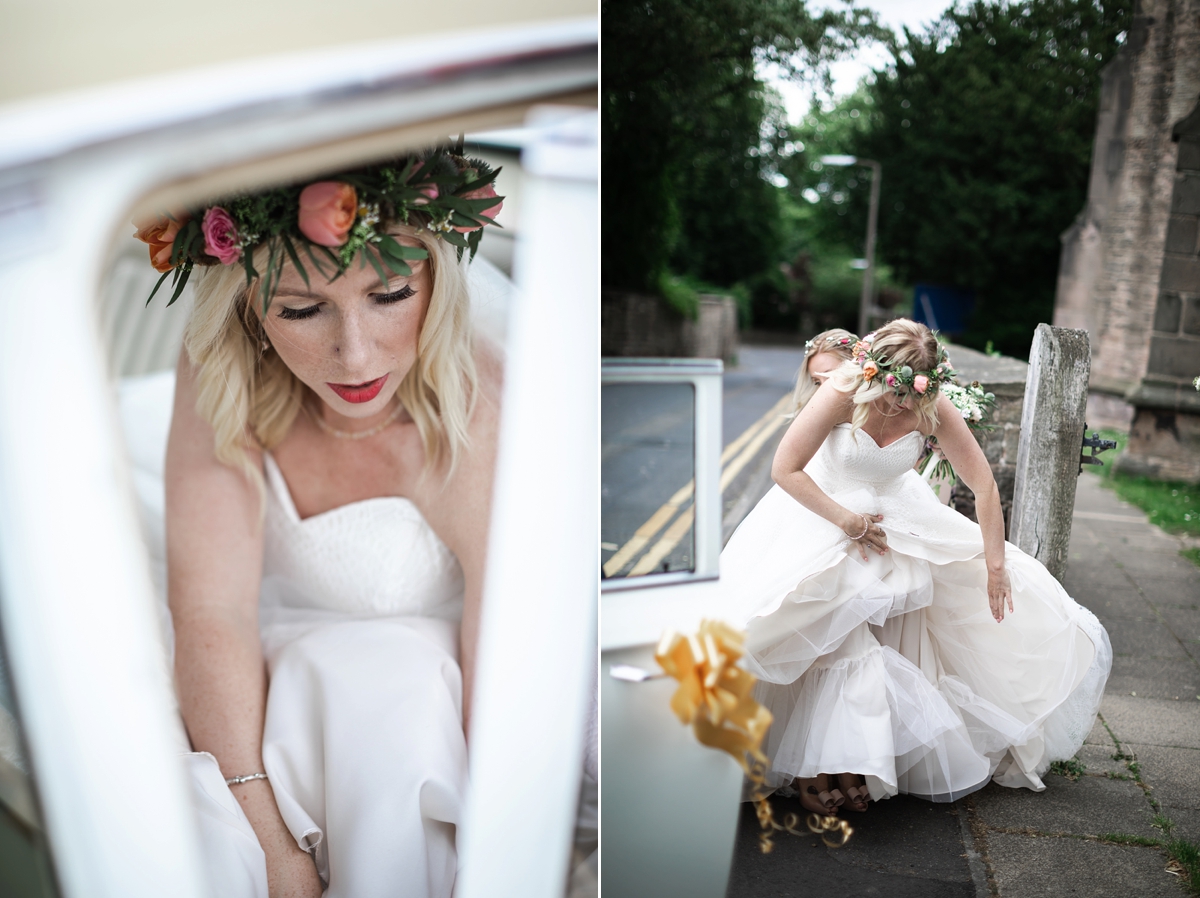 To get them to the church in serious style, Sara and her party drove in two classic cars belonging to her grandfather – a vintage Rover and a Vauxhall Victor, and once there, Sara was accompanied down the aisle by her father.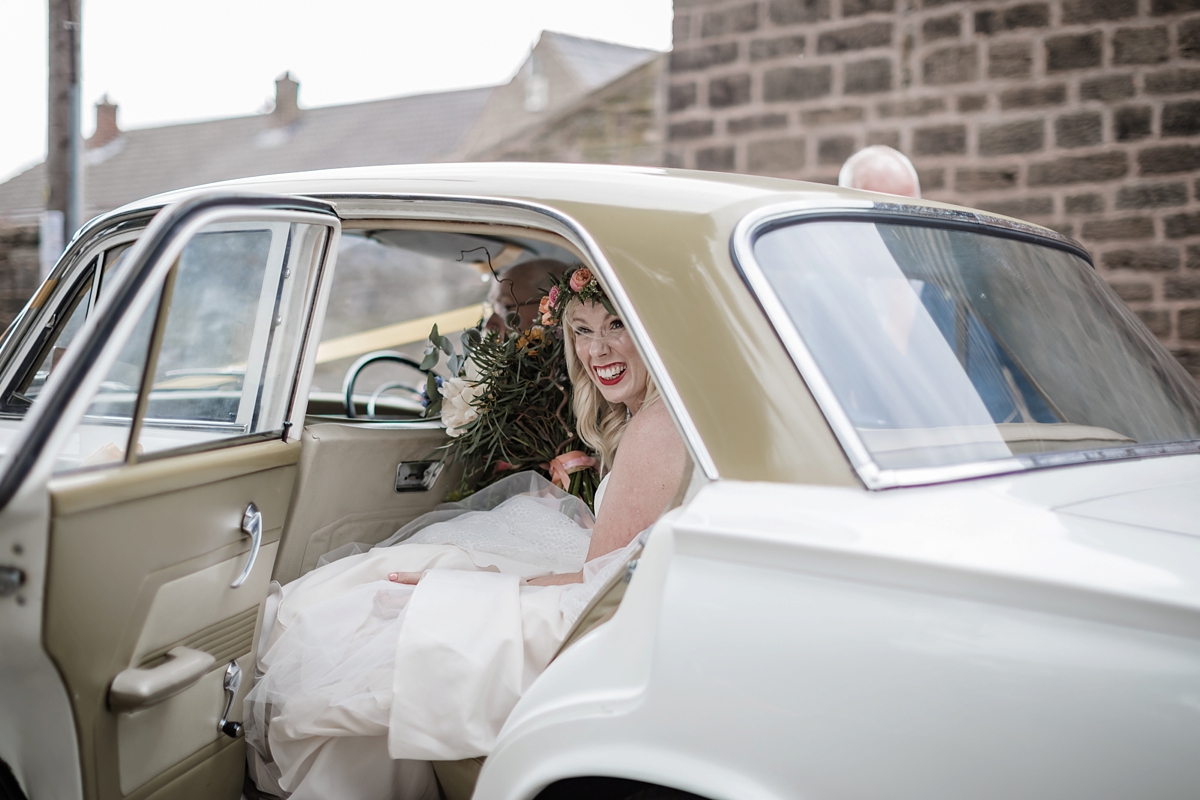 Standing in front of the altar waiting was Jesse, wearing a handsome blue tweed herringbone suit from Grays Menswear (now renamed Gentlemens Finery), paired with a white shirt and stone coloured knitted tie and pocket square.
"We met on New Year's Eve 2011 at a party where we each knew one of the couple who was hosting. We were each other's first kiss of 2012, and every one ever since. Jesse then proposed on our five year anniversary, and the wedding planning began almost instantly. We were engaged for 18 months before we married."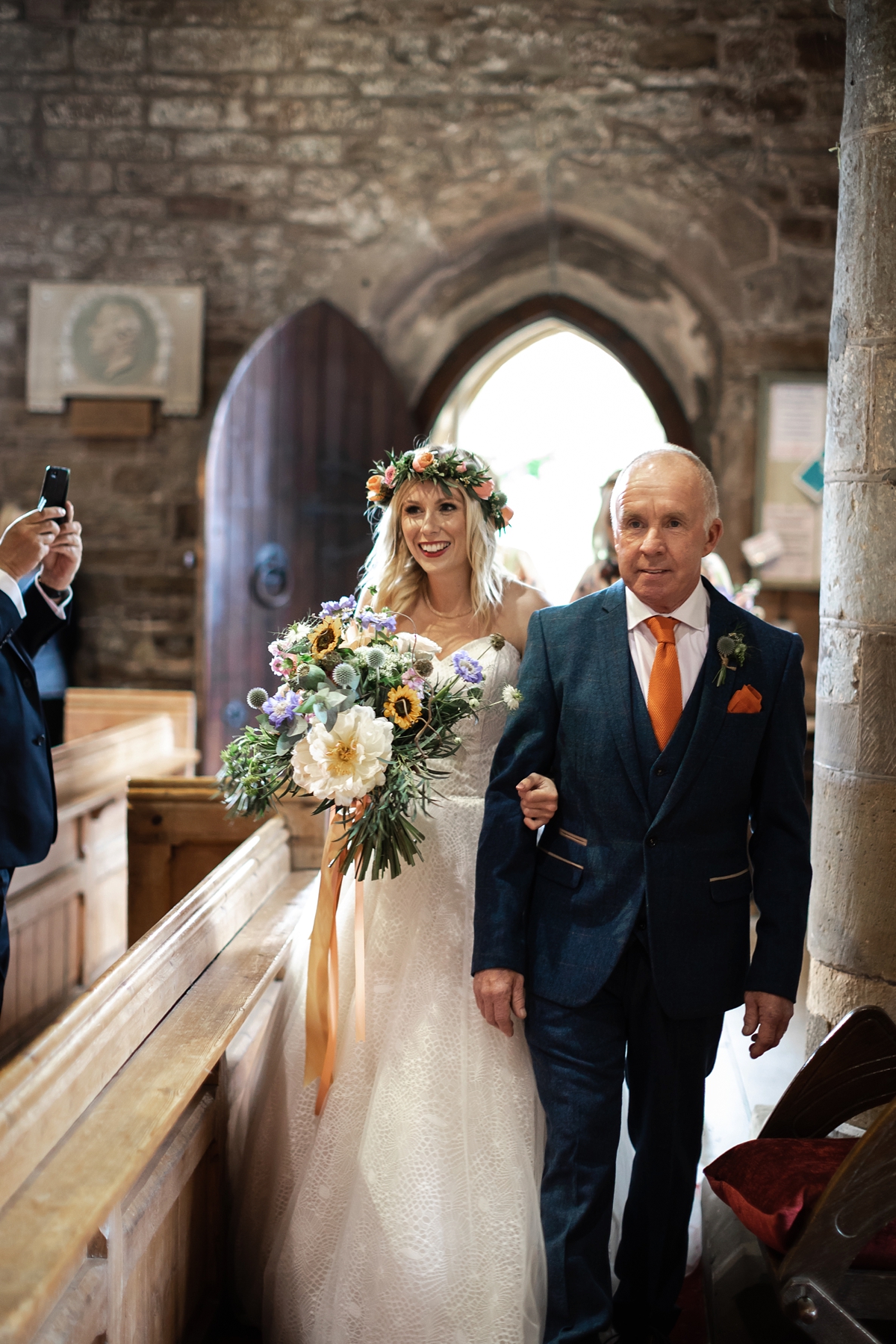 "We kept the vows traditional. We both saw the wedding as a religious celebration as well as legal, therefore we wanted to keep the ceremony as traditional as possible."
Sara and Jesse were keen to support small local business, and so chose their wedding rings at Chesterfield-based E. Haag Jewellers.
"We had a biblical reading, Song of Solomon 2: 10-13 and then a passage from Jason Mraz's song, Shine. We both adore Jason Mraz and have seen him live a multitude of times so wanted to make sure he featured in the day some way."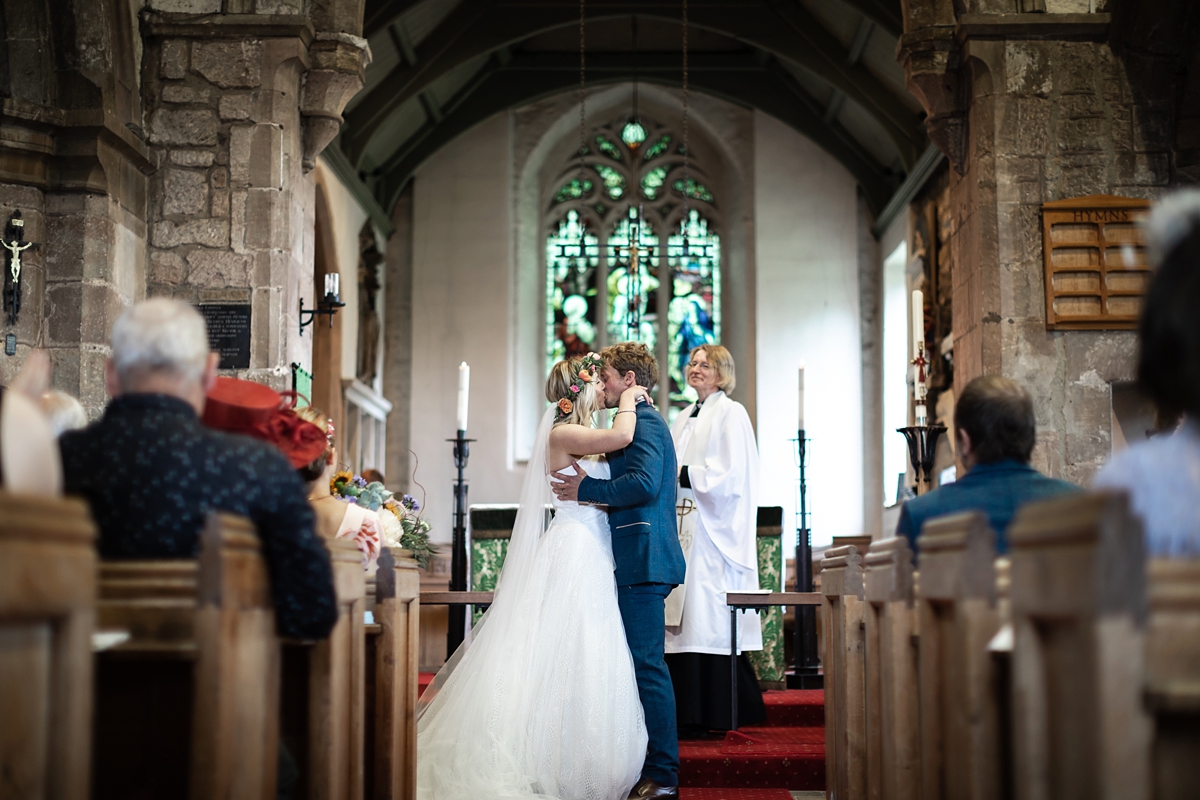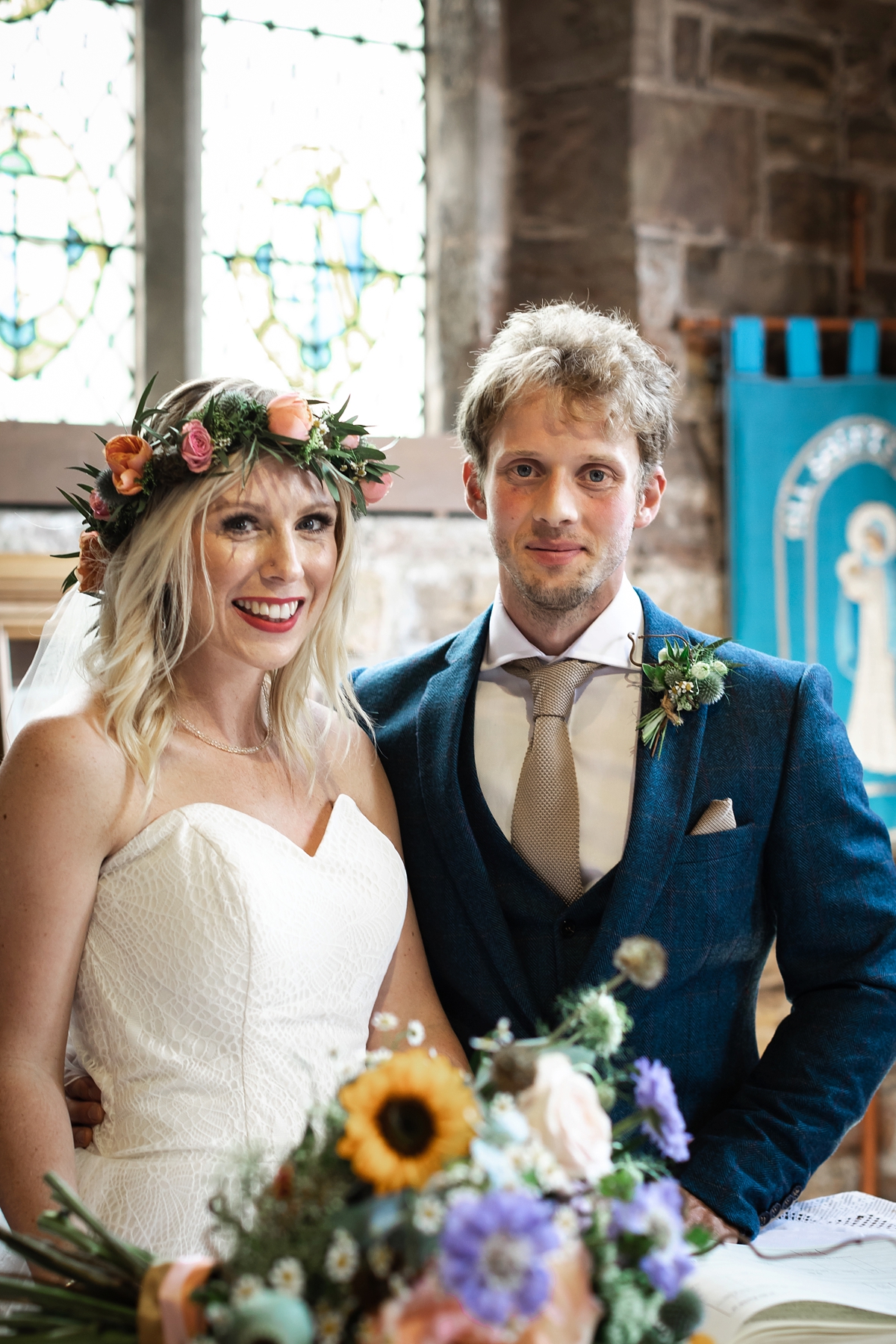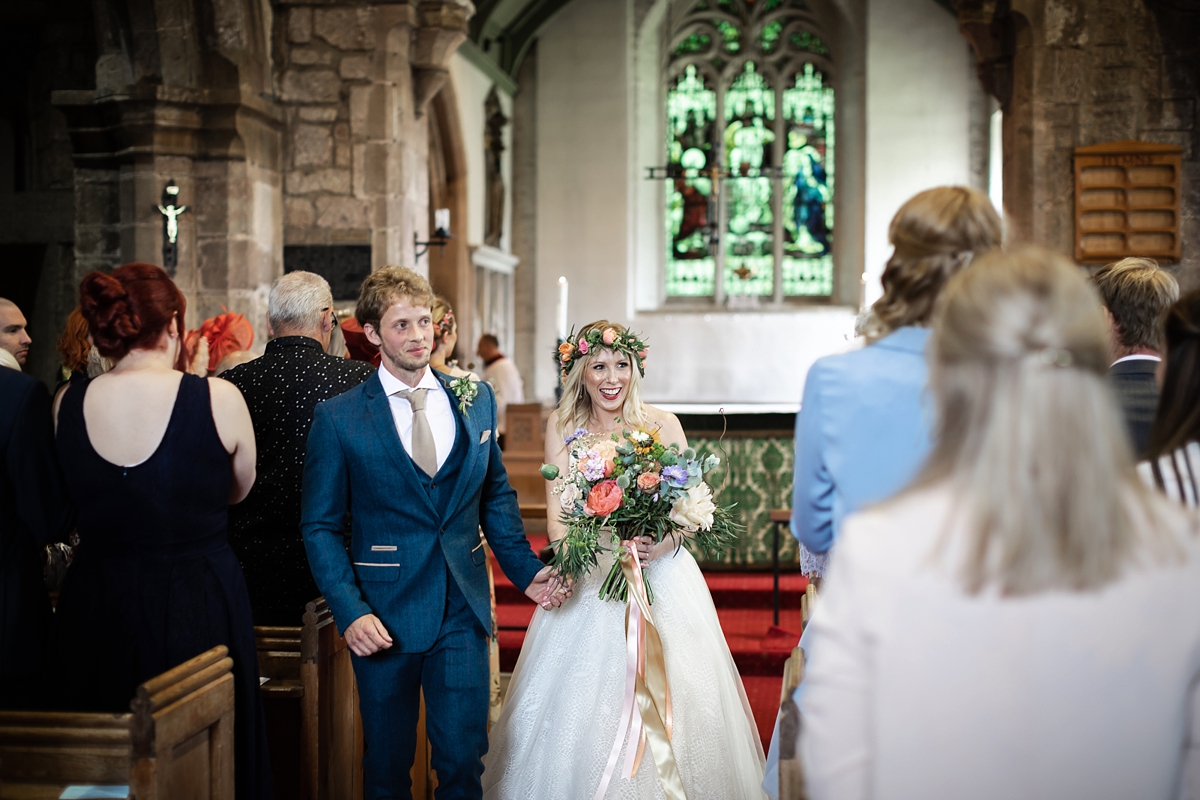 The couple chose photographer Stu Ganderton to capture their day, and I love the feeling of complete happiness radiating from these beautiful images.
Previous
"We met Stu at a wedding fair and we instantly liked him. He has such a warm and welcoming personality, and took the time to get to know us as a couple. This was really important to us as we wanted to ensure that the wedding photographs were an exact representation of us as people, which they were."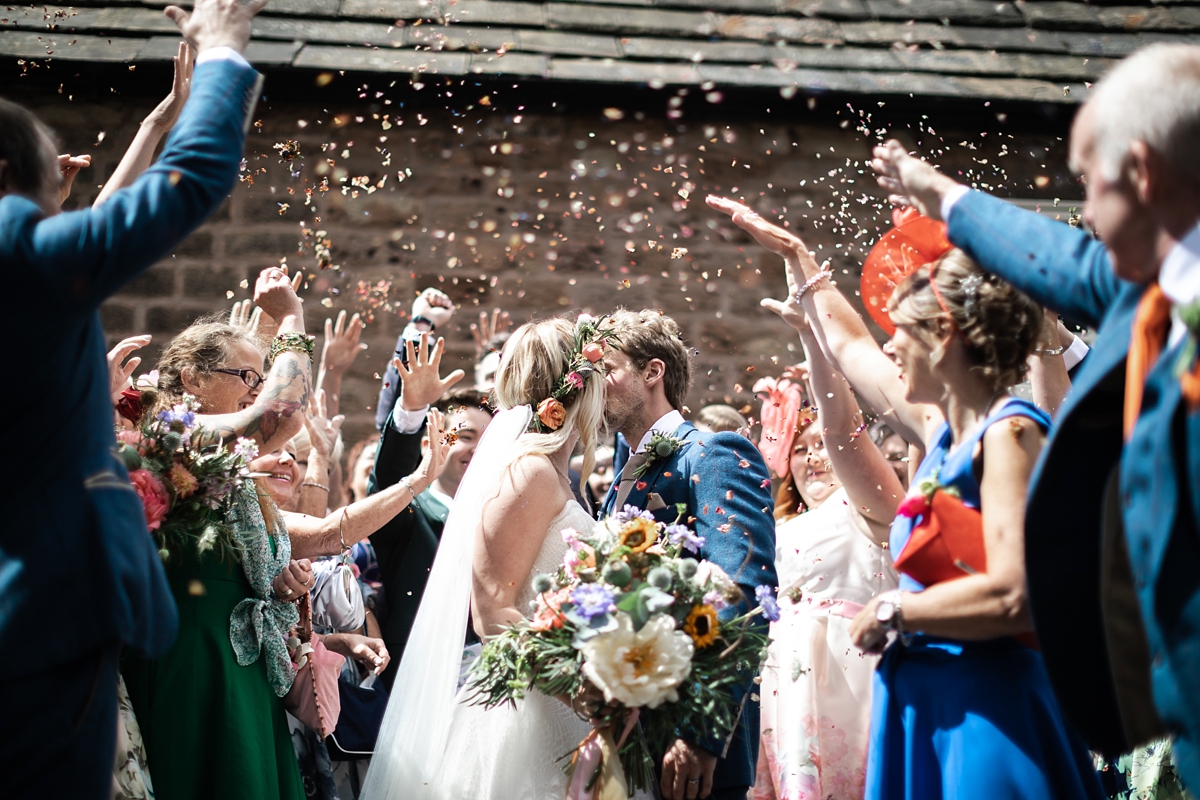 "He made us feel relaxed and at ease, which shows in the photographs. He was very professional throughout, and we honestly believe hiring Stu was one of the best decisions we made."
"You can hire the most beautiful venue, and buy the most gorgeous dress, but if you don't have a skilled photographer who naturally has the vision to showcase these elements to their greatest potential, then their beauty will be lost. The photographs that Stu gave us will be treasured forever."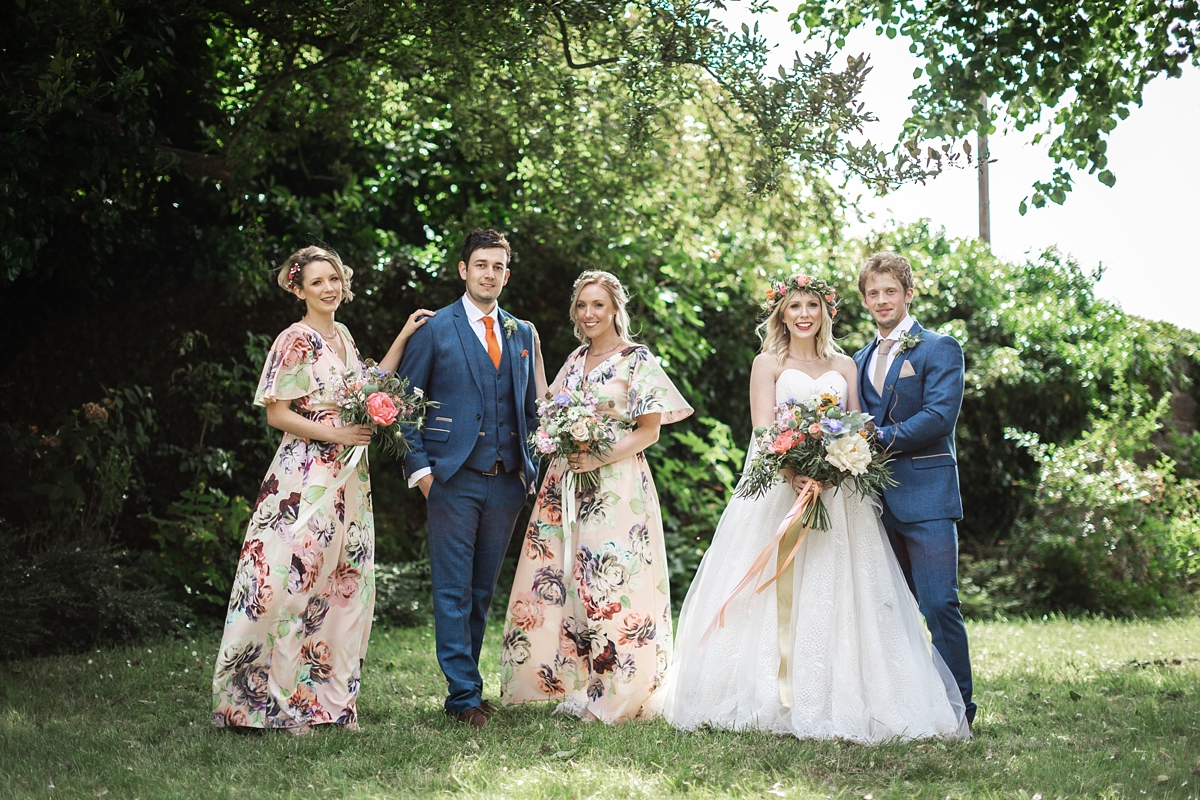 Sara and her bridesmaids each carried a wild and colourful bouquet by Fantail Designer Florist, filled with huge peonies and roses, love-in-a-mist, sunflowers, poppy seed heads and lots of greenery.
"Once we met with Sam, she completely understood our vision, and we had every confidence that she would deliver. On the day, the flowers completely surpassed our expectations. They were absolutely beautiful, and had the wild quality we so desperately wanted. We have received so many compliments about the flowers, and we could not recommend her services enough."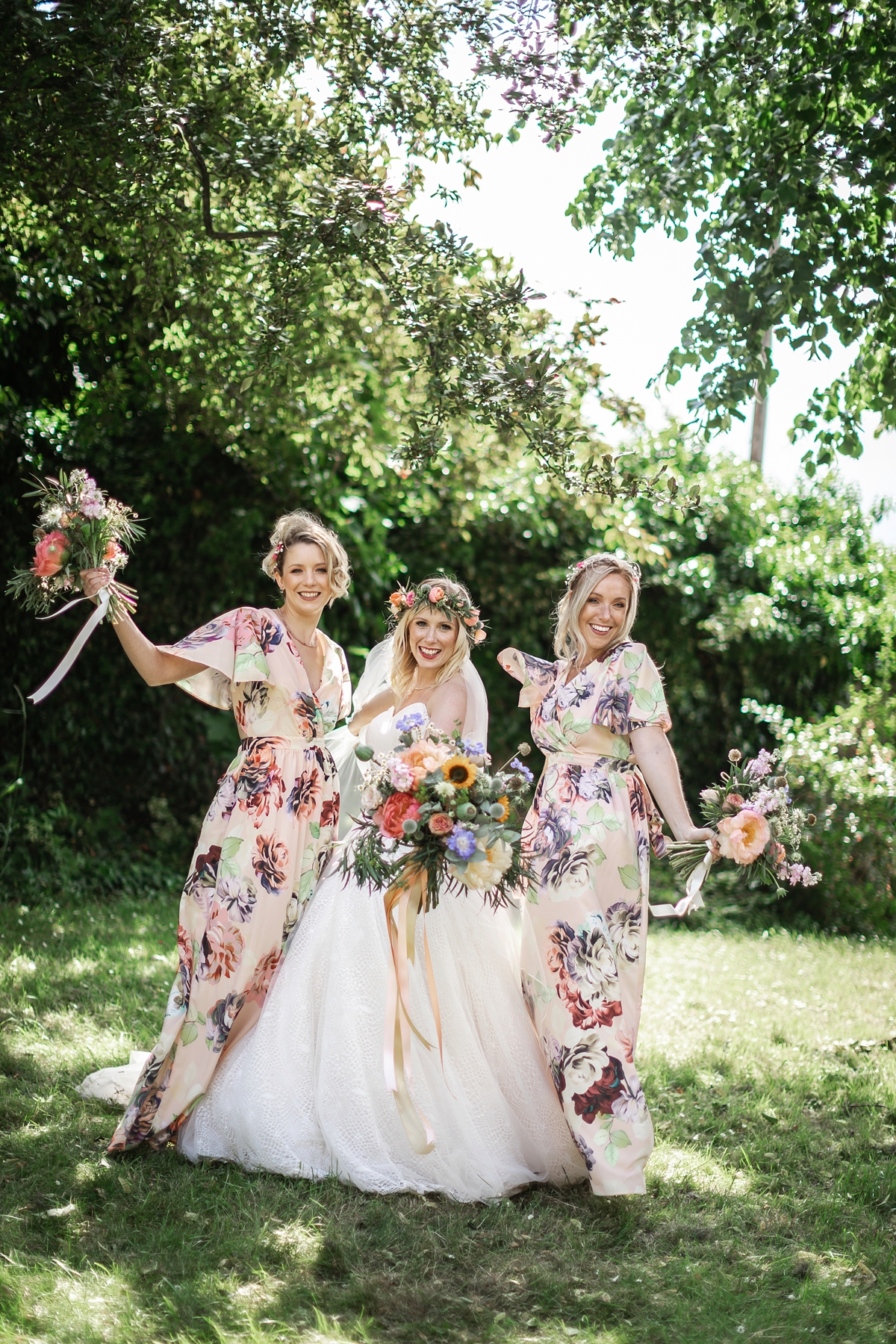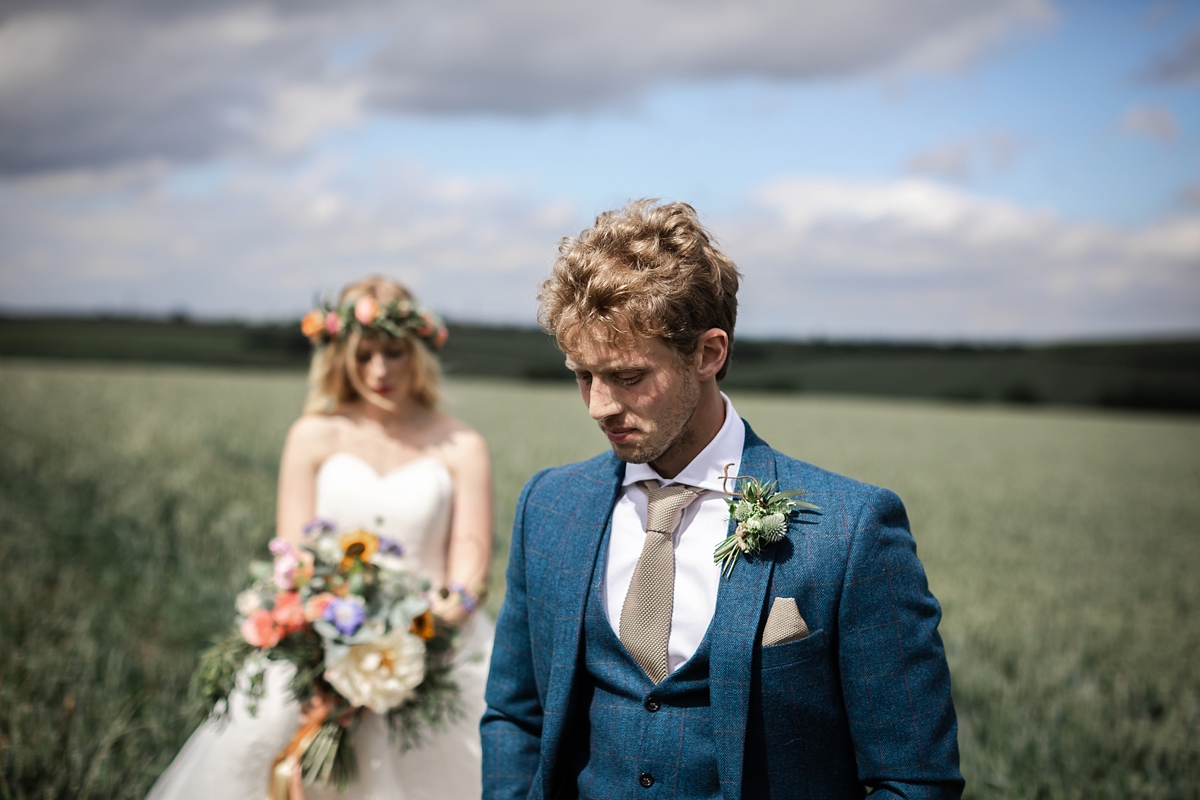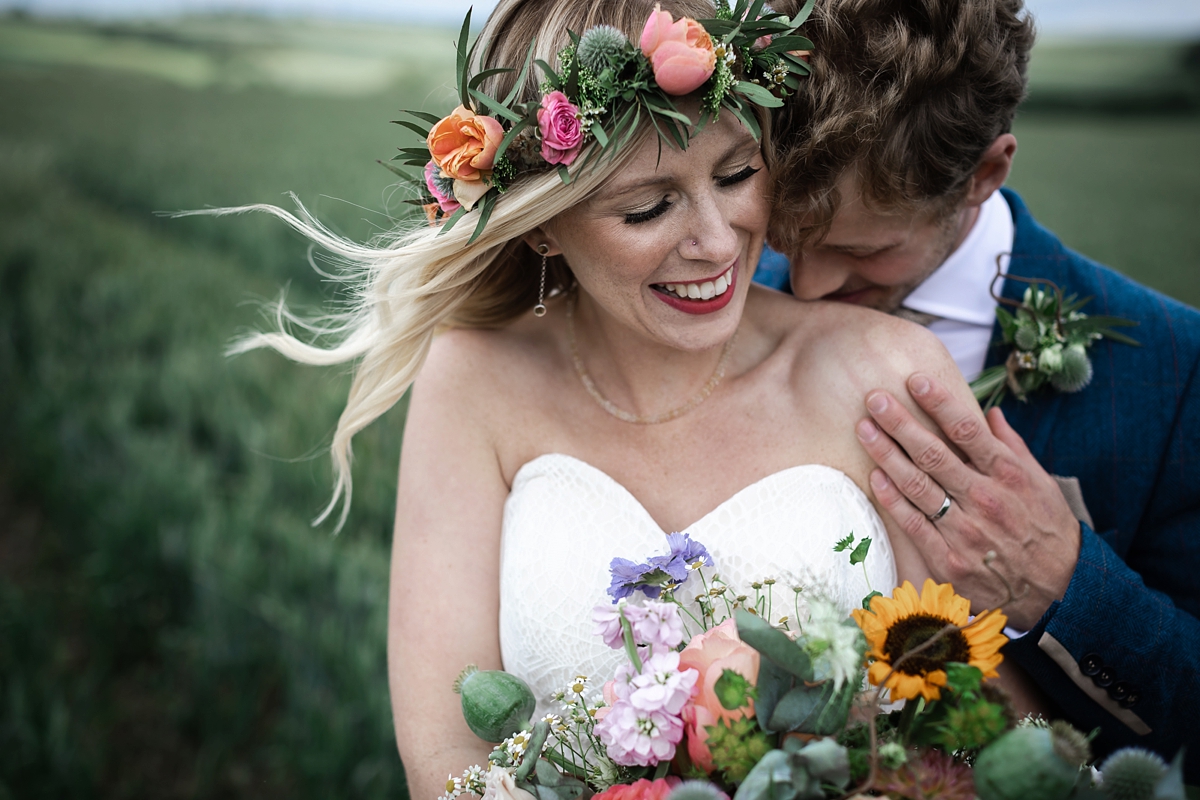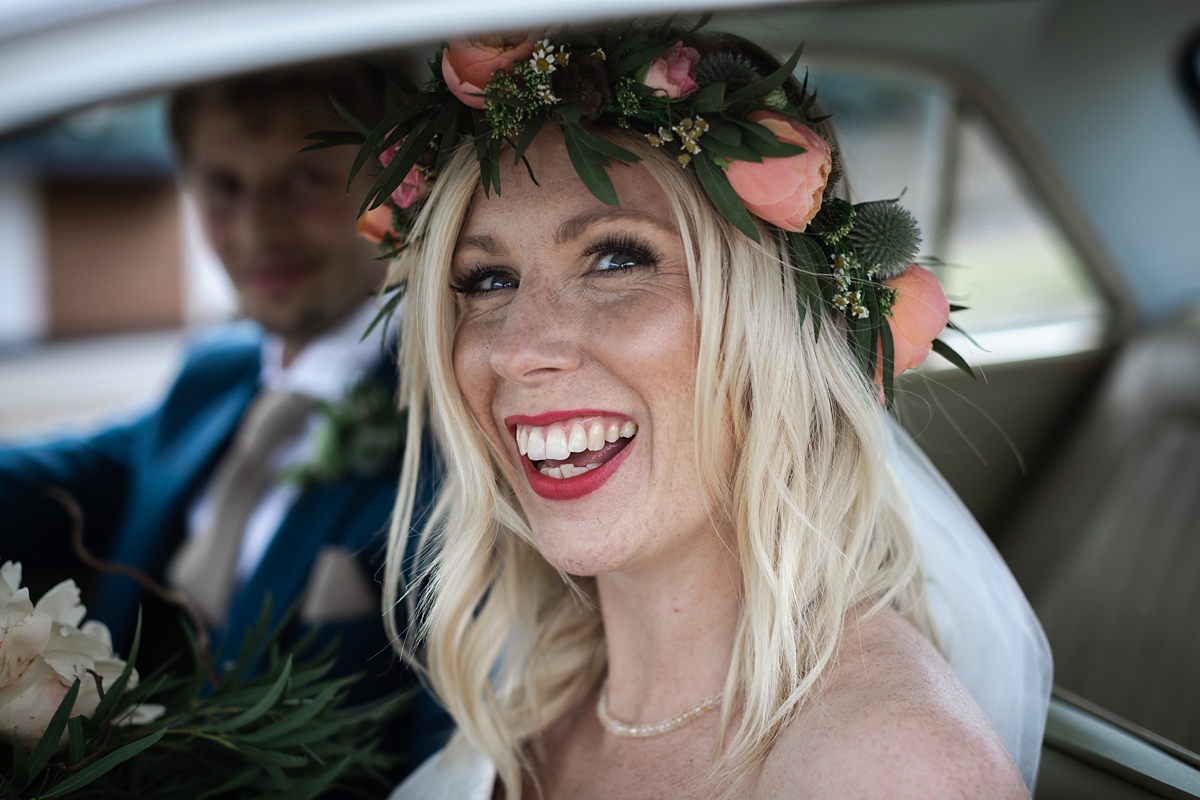 "Aston All Saints has a personal connection, and also it is a beautiful building with a lot of character and interesting architectural detailing.The reception was held at Whiston Manorial Barn (Rotherham). This venue suited us perfectly as it had a relaxed feel, and would suit our whimsical style."
"As soon we walked in the first time, we were breath-taken by the high beams, large space and interesting stone features. Also, the owners are relatively relaxed in respects to styling, meaning our artistic flare could run wild with endless possibilities. In addition it is quite local meaning that all of our friends and family could attend with no concerns about accommodation."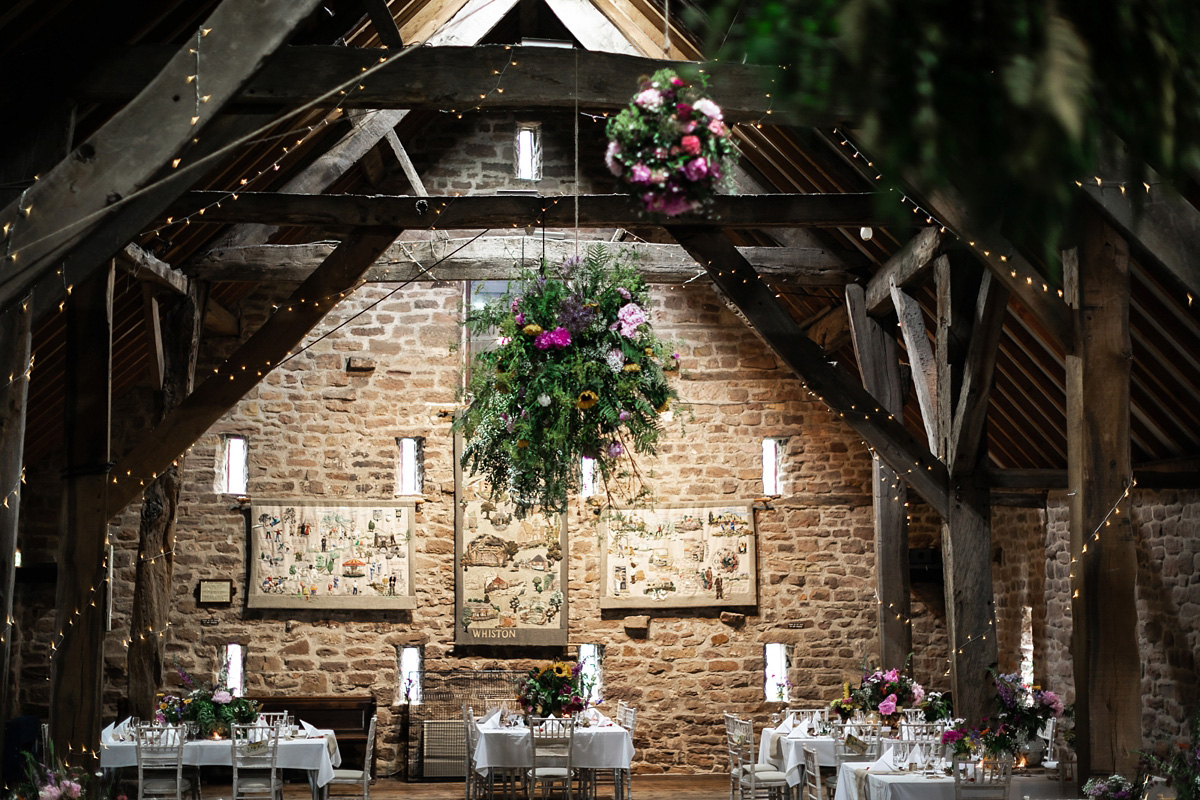 At The Manorial Barn, Sara and Jesse worked hard to bring their rustic, nature inspired look together in the wonderful historic space.
"All of the decorations within the venue were arranged and made by ourselves. The main focal points were the five flower balls that we made to hang from the ceiling. With Jesse's climbing and rope access skills, we were able to execute this design and we could not be more pleased with the results."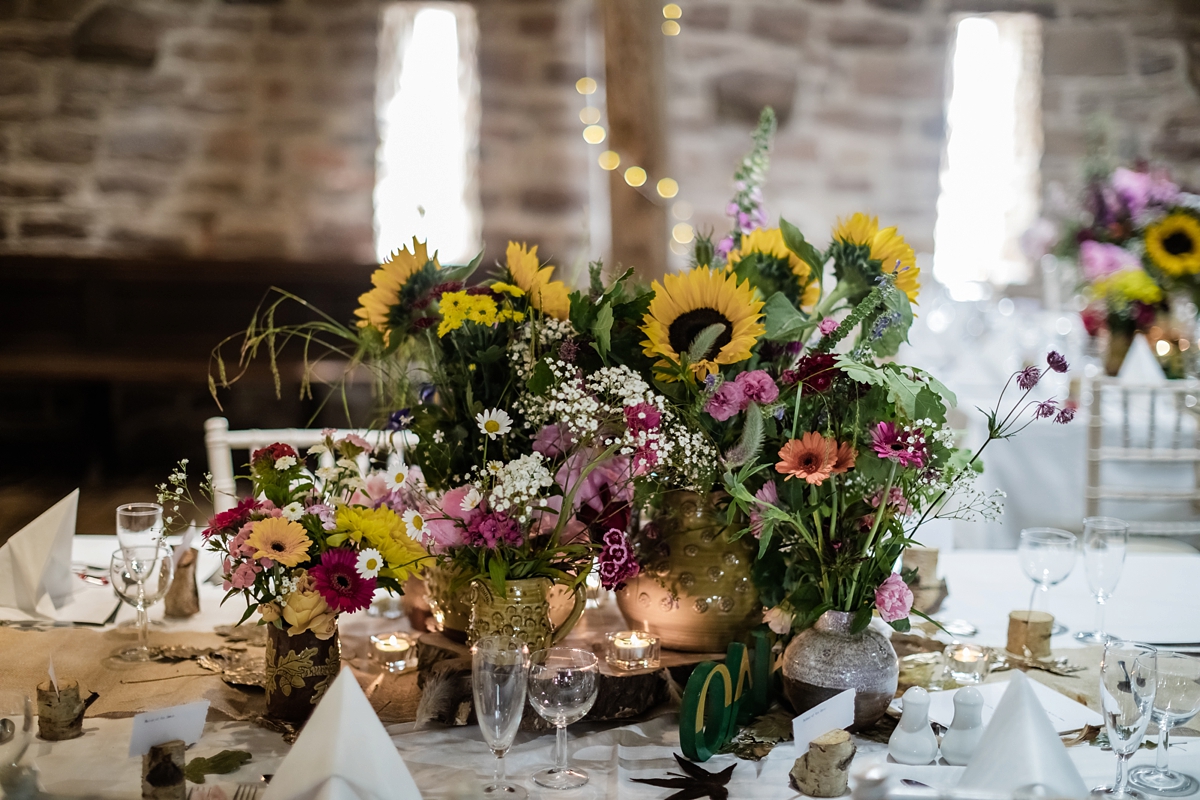 Colourful flowers spilled out of ceramic jugs, all made by Jesse's mum, who runs White Well Pottery, specialising in Medieval designs and techniques perfectly suited to the barn.
"The menus and place cards were made by us. We bought an old typewriter of off eBay and made them ourselves. The table plan was also made by myself, including all of the wooden painted boards. I am a very creative person and saw this as a fantastic opportunity to add a personal touch to the day."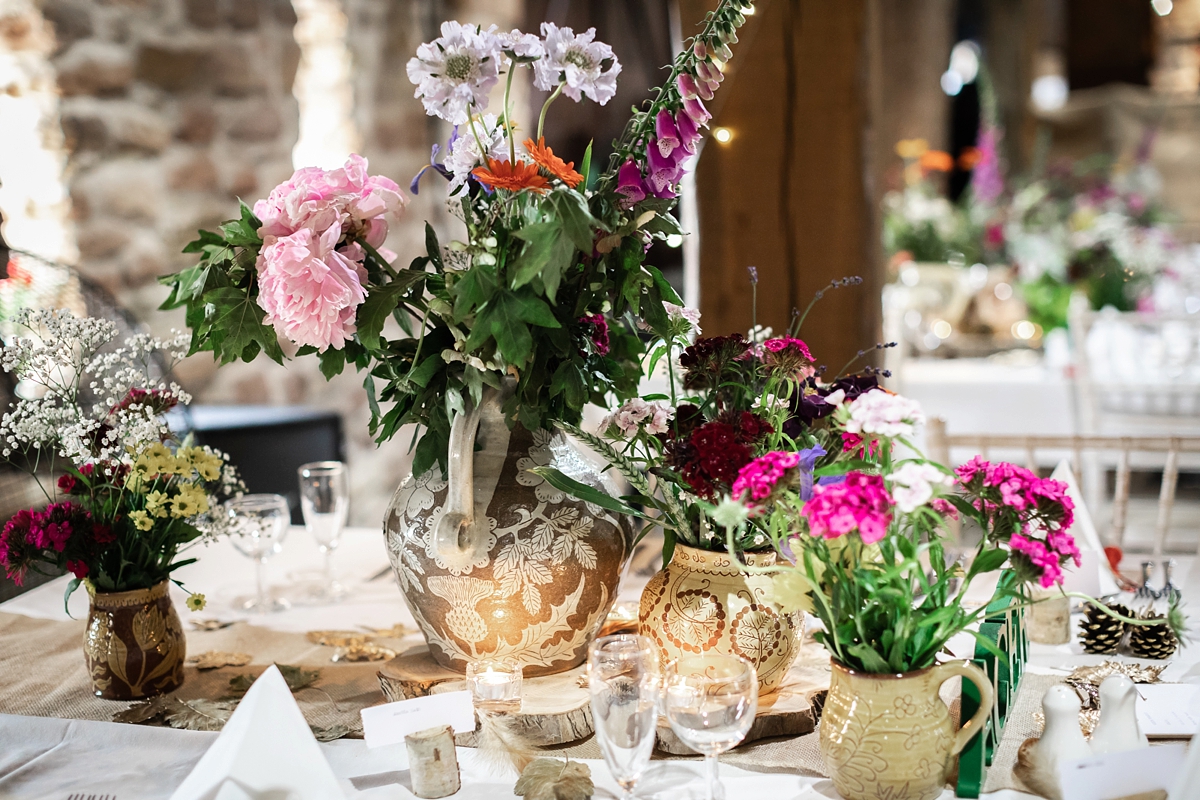 "As Jesse is a tree surgeon, we played on this a lot by having logs on the table, which he had collected, named the tables after different tree species, and also by making our own wedding favours out of rope. They were key rings with a carabineer and a monkey fist knot at the end. This then flowed into the whimsical, bohemian styling that we adopted by having wildflowers, feathers and real pressed leaves as decorations."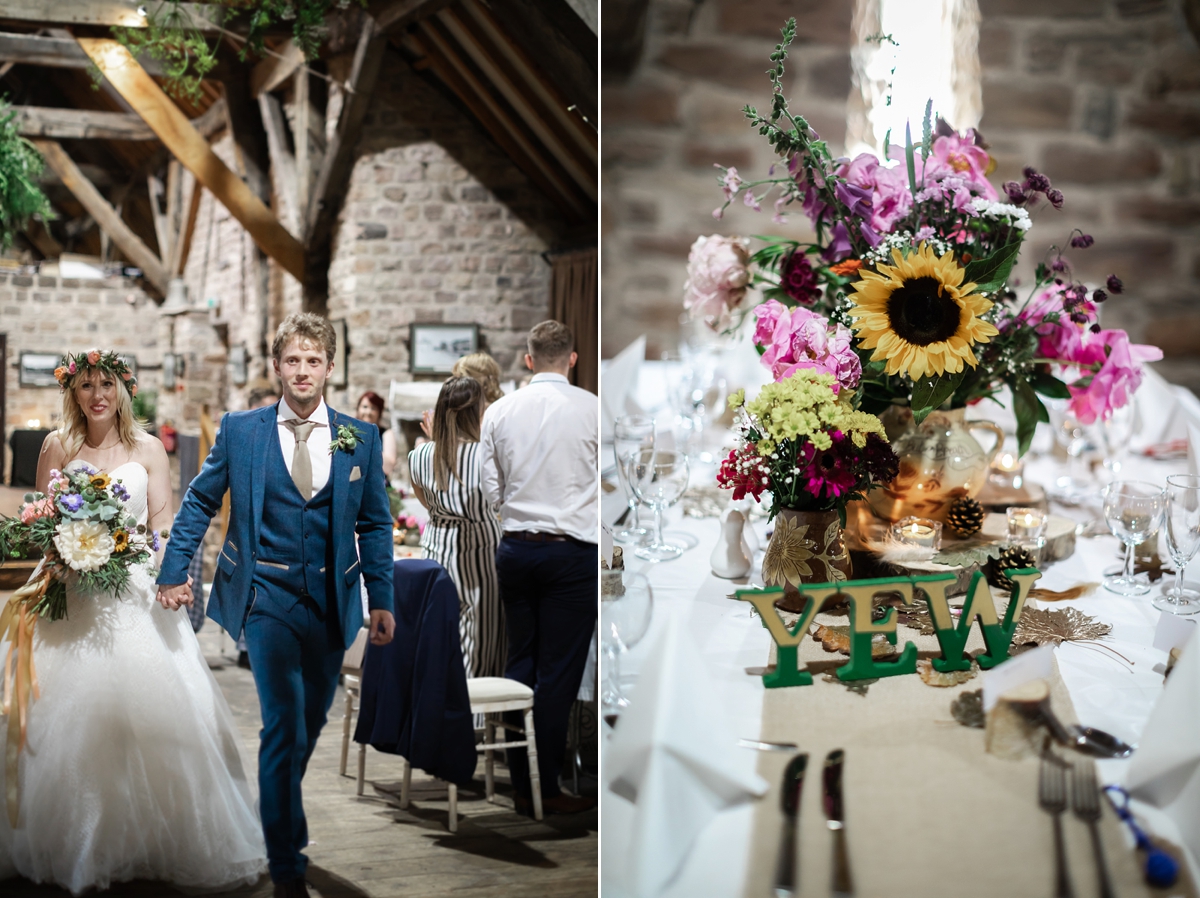 There was wedding cake, too, made by close friend Lizzi Lake and cut with a specially made knife for the occasion by Josef Dawes of White Well Arms.
"This was where Jesse was very opinionated, and he was adamant that the cake must have icing, with at least one layer on lemon sponge!"
The team at The Manorial Barn created a delicious wedding feast, which was rounded off with sweet treats from Creating That Moment's sweet cart and ice cream from The Yorkshire Vintage Ice Cream Company.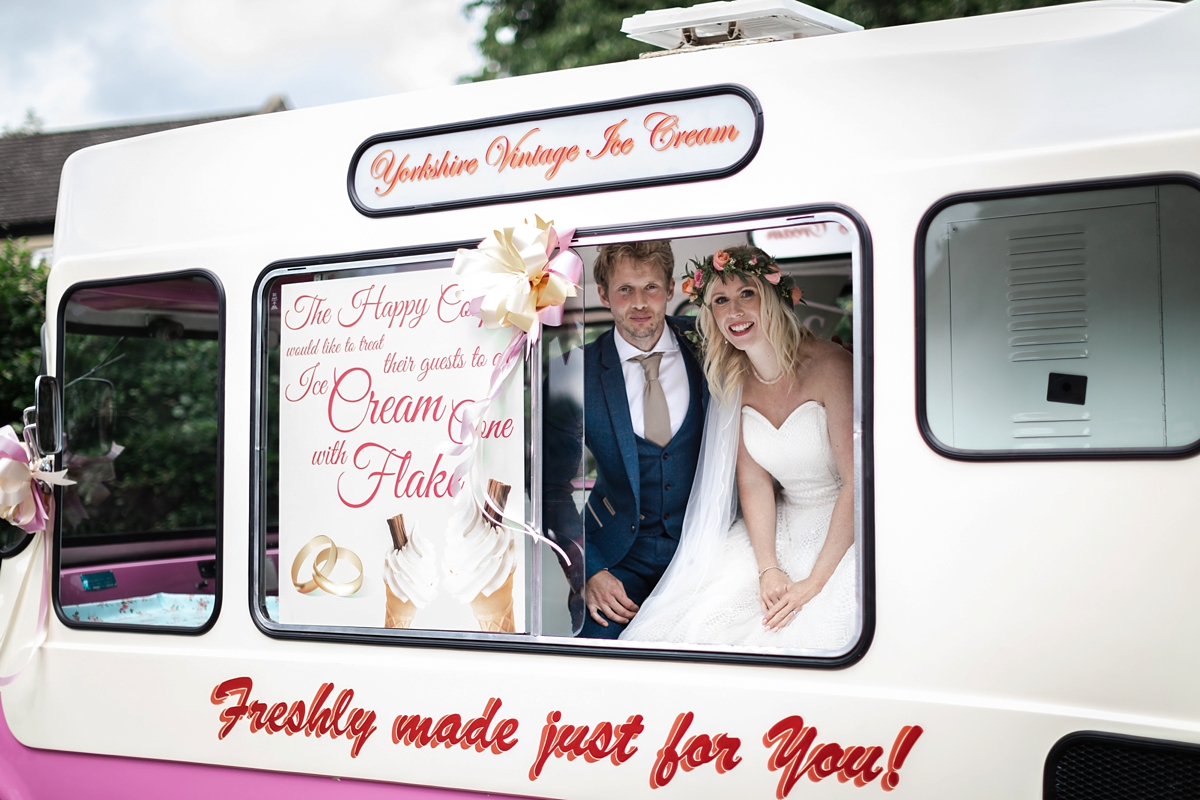 When it came to the evening entertainment, the venue provided a DJ to get everybody dancing, and Sara and Jesse also organised a mirror photobooth from MiMi Events, which proved to be a great success!
"The first dance was to Loving You Easy by Zac Brown Band. The song is happy and upbeat, with beautiful lyrics, which perfectly describe how we feel about each other. We did not want a typical slow dance, and we wanted a song that not many people would have heard."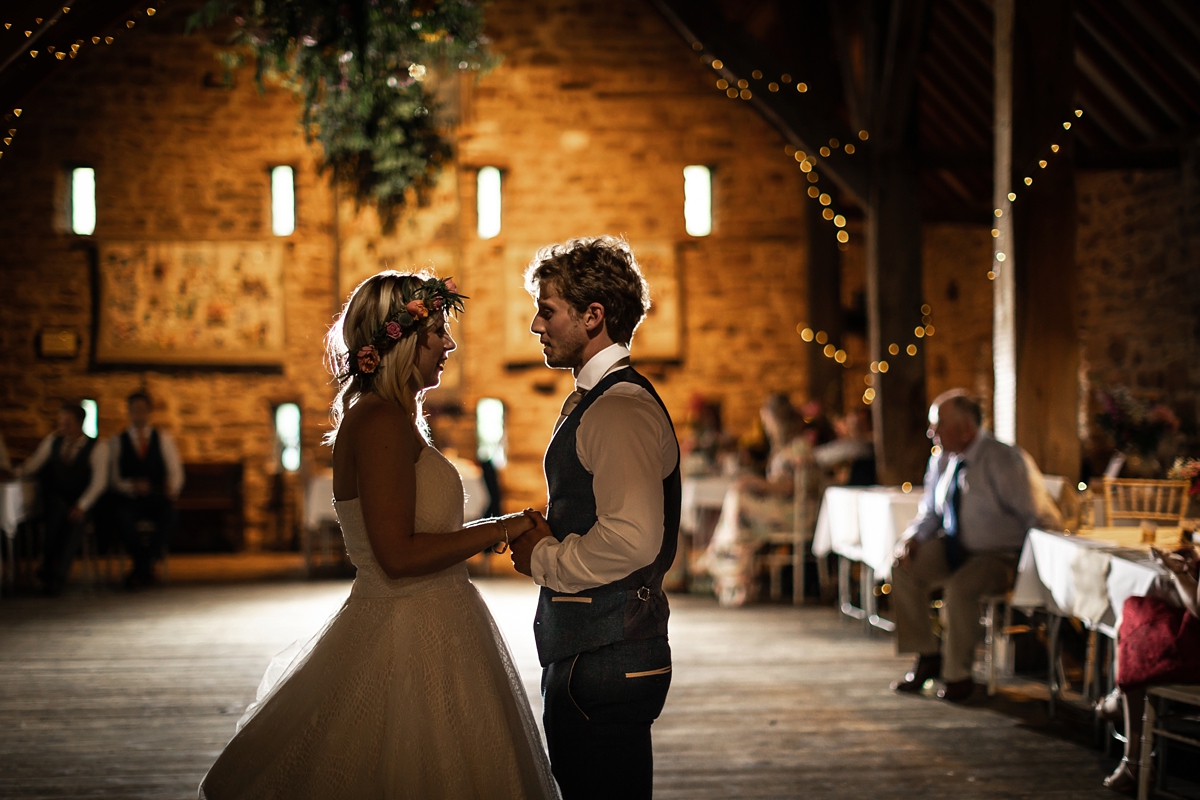 "In addition, we had a choreographed dance arranged, as we both felt quite uncomfortable about dancing in front of everyone, therefore we hired a professional dancer to teach use a social fox trot routine to suit our song; this way we could be confident that it was going to be good. We had the dance lessons at Draper's Dance School in Beighton, Sheffield."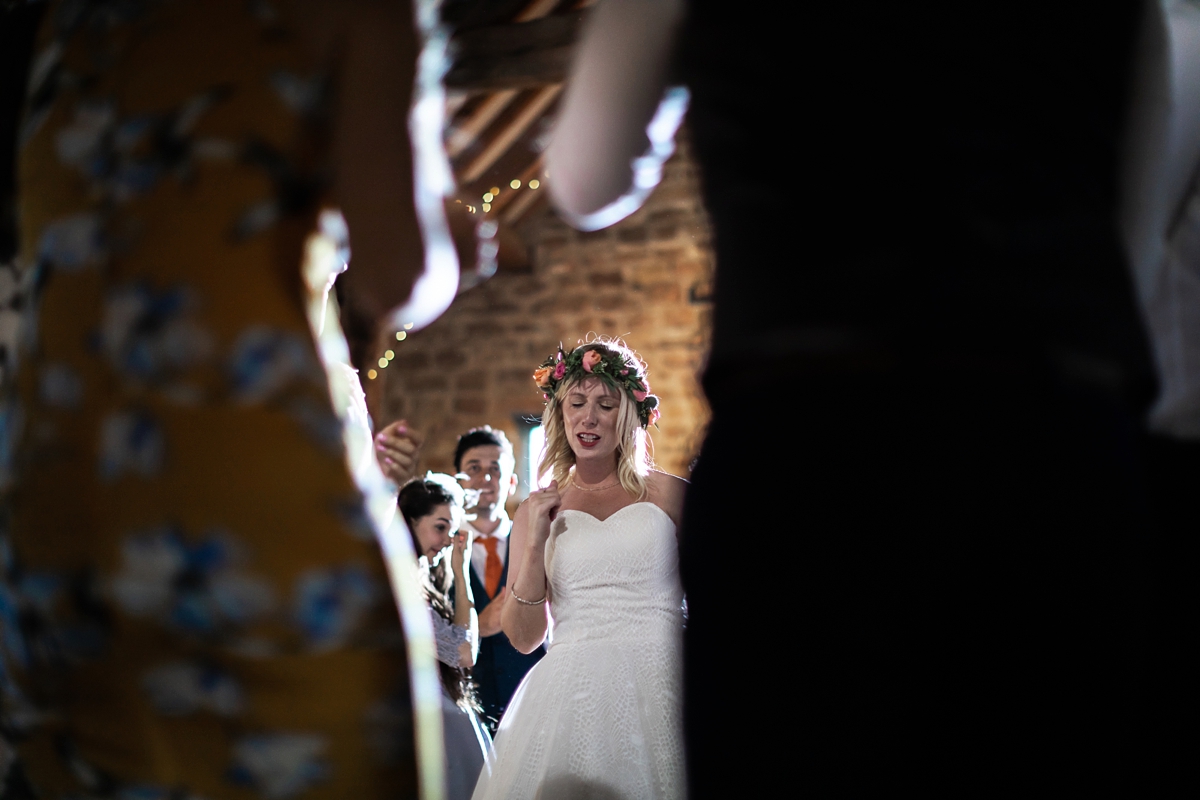 Words Of Wedded Wisdom
"As cliché as it may be, it would be to enjoy every single moment. The day goes faster than you would ever believe, so make sure you have a moment to soak in all of the happiness you will experience."
"Also, although people want to make sure that you have the best day possible, they can be very opinionated about what you should do/have. Listen to them, as they may have some good ideas, but be assertive and ensure that you have your day, and not someone else's."
"Remind yourself throughout that this day is for you and your husband, therefore make sure you have exactly what you want and need to make you happy."
"What we would do differently is that we would make sure that we got a photograph with absolutely every single guest, whether it is a selfie on the phone, a picture in the photobooth or a professional photograph with the photographer. It was overwhelming to see so many people make the effort to come and celebrate our special day with us, and I wish we would have captured everyone's faces to treasure that."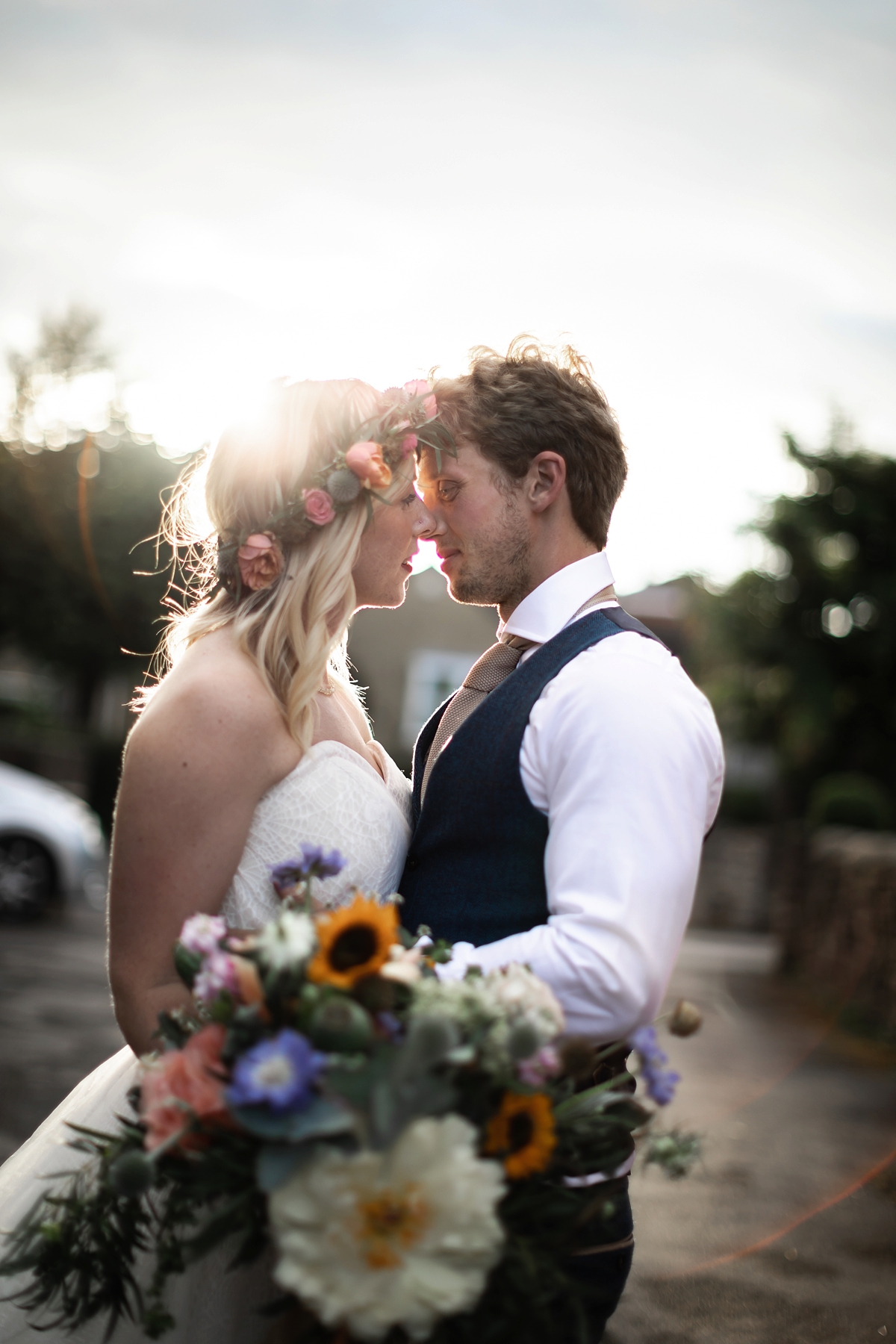 Sara and Jesse, thank you so much, and huge congratulations. It's been so enchanting to take a look at this glorious summer wedding. Our thanks also to to photographer Stu Ganderton for capturing it all so beautifully.
Until next time!
Love,
Laura
SUPPLIERS